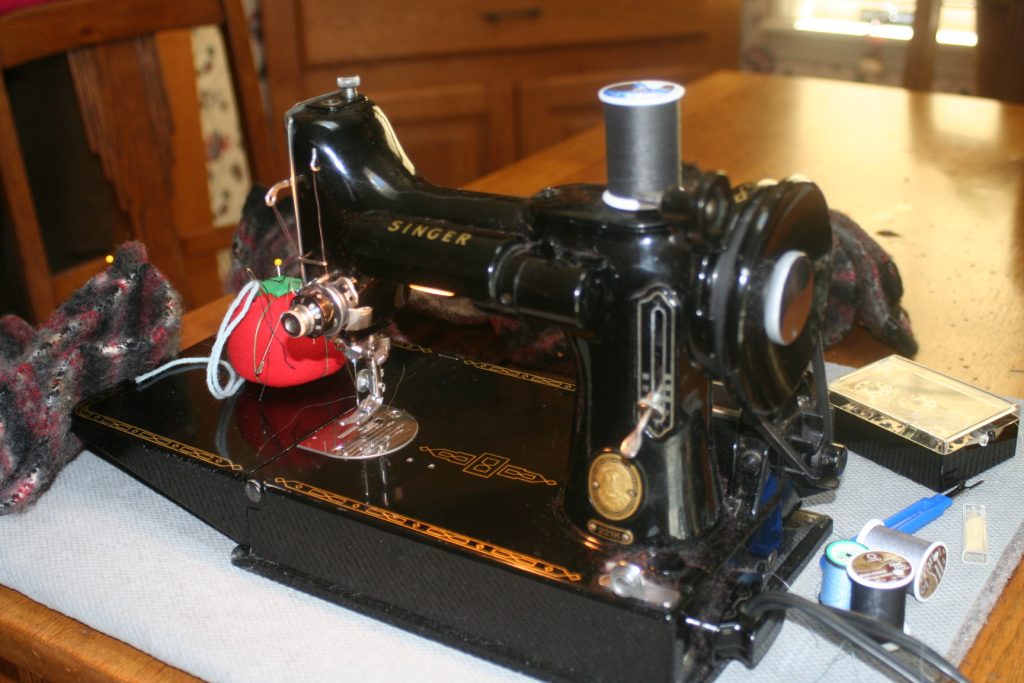 I started RagBags in the fall of 2005, when my friend, Jean Roberts, (a very talented artist and crafter herself) decided to have a sale.  She, along with her sister and another friend, had produced a lot of good stuff and needed to sell some of it!  So she called and asked if I could come up with something to sell at this sale.  I said, "I can't make anything, at least not that anyone would pay money for!" Then, a few days later, I saw in a magazine how to take wool sweaters, 'felt' them, and turn them into handbags….and that was the start of RagBags!
I thought to myself, hmmm…..I could maybe do that! I think I have an old sewing machine somewhere!  Sure enough, my husband's grandmother's 1958 Singer Featherweight machine was tucked away in a closet, and I got it out and got busy.  I had 18 bags for that first sale (our craft group, The Art Party, still has sales from time to time) and sold all but one.  I was hooked!
But then I had to find something to make bags out of for spring and summer. Fortunately, in my line of work at that time, I worked with a lot of interior designers who would give me their discontinued fabric samples and trim scraps. Perfect! Fabulous fabrics, and just enough for one bag and no more! And they were thrilled that I would take them, because they usually just threw them away!
From there, I began to find things at thrift shops and other places to make bags out of. I have made bags from all articles of clothing, sheets, towels, placemats and napkins, hats, fabric and carpet samples, cigar boxes, rugs, ties, books and even bras! One of my personal favorites is a messenger bag made from an electric foot warmer–the cord is the strap, and I left the plug on so it still heats up! And my evening bags that are crocheted out of VHS videotape are very popular!
The funny thing is, I hated sewing when I was a kid. I never finished my junior high sewing project–a bathing suit cover-up–because I just couldn't stand it! My mother was so disappointed in me. She was the type who would make me and my dolls matching outfits. She really gets a kick out of this now! I realized all these years later what the problem was: I can't follow a pattern whatsoever! I just have to picture the finished bag in my mind's eye, and then just throw the material down and start cutting!

The RagBags "philosophy", of course, is to find ways to use items that might otherwise go to the landfill. I even use my wool scraps and trimmings to make Christmas ornaments! I never thought I'd be doing this, but I try to keep evolving and finding new things to make bags from. You never know what might be next!




are available at Monkee's of Blowing Rock, Blue Ridge Artisan Guild Gallery, Wilkesboro, NC, and at select events and shows throughout the year. Check back for upcoming dates and locations.